Post-Operative Total Hip Replacement (THR) Rehabilitation
Written by Rob Walsh, Physiotherapist
Total hip replacement surgery is an effective means of reducing pain and improving quality of life in those suffering from severe osteoarthritis (OA). The procedure includes replacing the joint surface of the femur, known as the femoral head with a prosthesis: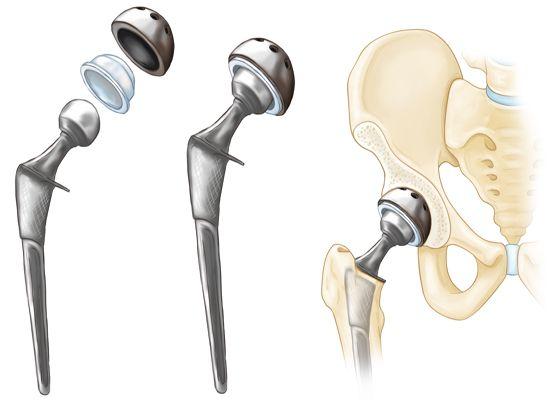 (Image: AAOS)
Rehabilitation following a THR is important for a few reasons. Firstly, long standing pain with osteoarthritis makes it harder to participate in certain hobbies and socialise. Because of this, our body becomes deconditioned and we can become fearful of movement, resulting in further loss of function. Rehabilitation after your surgery is a vital part to return to the activities you love.
Secondly, this is a big procedure including a large skin incision and remodelling of your hip joint. Your body will react to this like it would any injury. This means pain, swelling, bruising, loss of strength and range of motion. Rehabilitation is effective at mitigating these effects over time.
Finally, lower limb strength and good general health practices such as general exercise, good sleep and a healthy diet are all key to prolonging the life of the prosthesis.
Research has shown that an effective rehabilitation program following THR is effective at reducing post-operative pain, improving strength, walking speed and resumption of hobbies. However, it involves more than just prescribing exercise. The keys to a successful rehabilitation program are:
Listening to your expectations so we can work with you to set achievable goals.
Education regarding your procedure, timeframes for recovery, how to manage pain and progress activity.
Understand the importance of maintaining good general health behaviours including exercise, sleep and diet.
Graduated return to daily activities and hobbies.
Combined supervised and independent exercise program that is progressive and meaningful to achieve your goals.
The aim of this blog is to provide you with education to set the foundation for your rehabilitation. It is not an exhaustive list, along your journey we will provide you with additional information targeted to you.
Who needs a THR?
Those with severe arthritis and the following signs:
Severe OA with corresponding loss of function, including everyday activities and ability to socialise
Constant pain and interrupting sleep
Joint locking or instability
Another, and probably the most important deciding factor is your pain or quality of life does not improve with conservative management. If your path towards surgery is elective i.e. not resulting from acute injury, it is quite common for specialists to recommend a period of conservative management or 'prehabilitation' to improve your recovery. This will include general exercise strengthening, diet modification and weight management if necessary. Even if your symptoms do not improve, your recovery will be much easier.
Realistic Expectations and common concerns:
Pain you experienced prior to surgery shoulder reduce quite quickly. Pain resulting from the surgery can last for a few weeks to months.
Swelling and bruising can persist for several months and can extend to your knee and ankle.
For approximately the first 6-8 weeks, you will have to abide by hip precautions explained by your specialist and physiotherapist to reduce the risk of dislocation. This is detailed later in this document.
With good care, your prothesis will last more than 13 years.
Returning to high impact sports such as running are generally not advised. However, we will discuss this with your specialist.
Sexual Activity can be resumed when you are comfortable to do so. Most guidelines advice around 4-6 weeks after surgery. General advice is to take a more passive role initially, remember kneeling can be quite uncomfortable for several weeks.
Driving is permitted after approximately 6 weeks
Long Journeys: Flying carries a risk of developing blood clots, therefore medical certification is needed before flying. Long haul flights are not recommended before 90 days. Car drives should pose minimal issue.  However, remember to take regular breaks as your knee can become sore.
Risks:
As with any operation, there are risks involved, your specialist will talk you through your individual circumstances and risks of the following:
Blood clots (DVT), which would lead to pulmonary embolism
Infection, less than 1 in 100 patients undergoing surgery
Dislocation occurs in about 2-3% of people.
Fracture during or after surgery
Bleeding into the knee joint
Numbness to the skin around the incision site
Excessive bone formation around the prosthesis
YOUR HOSPITAL STAY
The average time spent in hospital is 3-5 days. During your stay, you will be monitored closely by medical, nursing and physiotherapy staff to help manage pain, prevent infection/blood clots and post-operative pneumonia as well as get you mobile.
Physiotherapy: Your physiotherapist will see you on the first day after your surgery. They will attend to you daily, sometimes twice daily to give you breathing and circulation exercises, discuss your hip practice how to correctly, sit, stand, bend and get in and out of bed. This will be progressed to walking along in your room, along the ward, and up and down stairs. During this process you may need aids to get you going e.g. walking frame or crutches.
Returning home: This is a combined effort from all your medical staff to ensure you are healthy, you can safely move around your house, manage self-care and have appropriate social support. If you need house modifications e.g. hand rails or shower chairs, an occupational therapist will assist you with organising this. You will be discharged with a set of exercises for strength and knee mobility. Referral's will also be made for your consultant and physiotherapy.
RETURNING HOME
Before we dive into rehab, it's important to consider all factors that contribute to your recovery. Below are some overlooked areas. Throughout this period, we will verbally discuss appropriate times for you to review with us in clinic to check improvement, answer any questions, progress your rehab and feedback to your specialist. Finally, specific exercise we prescribe will be provided to you in our consultations.
Diet and sleep: Keeping a healthy diet and regular sleep pattern is crucial for energy, healing, your wellbeing and pain management. Try to keep sleep times regular, especially in the early weeks when you feel most tired during the day. Refrain from sleeping with a pillow under your knee. This makes it more difficult to achieve full motion.
Keeping social: Keep in touch with friends/family in ways that you can at each stage of your recovery. This is especially important in the early weeks when you are spending more time at home. Active hobbies will be difficult for the first 6-8 weeks at least. Try alternatives such as phone/video calls and home visits.
Smoking Cessation: Smoking impairs bone healing. If you would like assistance with this, speaking to your doctors and us can be very helpful.
Alcohol: Try to keep consumption to a minimum. Like smoking, alcohol can impair bone healing. There is also a link between long term consumption and system inflammation through the body.
Relaxation: With so much emphasis on rehabilitation it's easy to get fatigued. Make sure you give yourself some time out to relax with something you enjoy. Have your knee in a comfortable position for about 30minutes maximum in the first few weeks. As the months go by you can increase this time gradually.
REHABILITATION MILESTONES
This next section describes key points for your rehabilitation. There are recommendations here to resume certain activities/work. To make sure resuming these is safe for you, we emphasise a thorough check of your progress in clinic and your consultant's approval before commencing any of these.
0-6 weeks: This time can be difficult as you could feel tired and sore. Your priorities are:
Prevent infection - Prevention is helped through keeping your wound dry and following any directions regarding dressing changes and anti-biotic medication. Look out for increased redness/unusual pain, any discharge from the wound. If you feel increasingly unwell, have a temperature or night sweats, this can be a sign of infection as well. You should contact your specialist/GP immediately.
Prevent blood clots - This is achieved with medication from your specialist. They may ask you to wear compression stockings for a few weeks. Any kind of movement also helps prevent clot formation. This means your exercises for circulation, mobility, strength and walking. Be on the lookout for increase pain, redness and warmth around your calves. This could just be bruising from the surgery but if you're concerned let us and your doctors know.
Pain & swelling Management - Pain at this point is due to the surgery. Your body has a lot of healing to do, a side effect of this inflammation/swelling is pain. Follow your specialist's recommendations for pain medication. Icing a few times, a day for 20 minutes, as well as performing your exercises and walking also help keep pain under control!
Adhere to hip precautions - These are designed to minimise risk of hip dislocation for the first 6 to 8 weeks following surgery. The most common precautions are avoiding: hip flexion >90degrees, adduction past the midline, internal rotation past neutral. Postures/movements to avoid include:
Sitting in low chairs/couches. This means sitting in chairs where your hips are above your knees.
Sitting with your legs crossed
Bringing your knee to your chest to put shoes/socks on
Having a bath
Bending forward at the hips to the ground
Sleeping on your side
Getting in and out of bed:
Getting out of bed: lead with your operated leg, use your other leg as support underneath if needed
Getting into bed: Lean back and lift your legs into bed using you unoperated leg for support underneath
Getting Dressed
Dress the operated leg first and undress last. Use a dressing aid on the outside of your leg to avoid leaning forward too much. Use a shoehorn to help with shoes.
Getting on/off a chair/toilet:
Place your operated leg ahead of your unoperated leg when you sit and stand. This avoids too much hip flexion. Use your arms for assistance as required.
Stairs:
Ascending: GAS: Good leg - Affected leg - Stick
Descending: SAG: Stick - Affected leg - Good leg
General exercise
Frequent walks through the day are important. This strengthens your legs, reduces pain and swelling. Start with just a few minutes inside the house. Increase this a bit each day.
Do as many daily tasks as your pain allows to keep a sense of normality and routine while at home.
Specific Exercises
Commence your exercises immediately 3-4 times each day. They will be painful, a common routine is pain medication – exercises – ice. We will discuss the best approach for you.
Alternate having your knee straight and bent during the day. This is to stretch and relax structures on each side of your knee.
How much is too much?
Pushing into a bit of pain is completely safe, try to keep it below a 5/10. Swelling after exercise is ok but should return to normal by the next day. To start with, increase time before increasing intensity.
Scar and mobilisation and care
Once your sutures or staples have been removed. Gentle massage down and across the wound, with application of vitamin E cream are useful to prevent adhesions. We can show you how to do this
Key Milestones
Return to walking with no aid or pre-surgical aid.
Driving at approximately 6-8 weeks.
Return to work if physical demands are low
Weaning off mobility aids:
Your specialist and physio in hospital will provide timeframes to wean off mobility aids. You must be able to walk without a limp using your current aids before reducing them. This discourages limping, which can increase pain in your knee and other areas such as your hip and back due to moving differently.
6 weeks to 3 Months: During this period, we try to maximise knee range of motion and functional gains. You will notice good progression here. You'll also notice sleep improves and energy during the day increases. You also have a bit of freedom at this point. On good days do a bit more, on not so good days, do a bit less. Don't do more than 10% of the previous day. We will talk you through how much is appropriate to start with.
General Exercise/activities
Walking: Start with small walks outside keeping within a 5/10 pain. Remember you have to walk back to your house so halve the time you think you can walk.
Stationary cycling: A fantastic choice as it is non-weightbearing. You need approximately 90-100degees of knee flexion to complete a revolution.
Hydrotherapy: A great choice as you can do most things in the water that may be difficult on land e.g. squat, walking. Your wound must be adequately healed to minimise infection, so make sure your specialist is ok with you starting this.
Specific Exercises
Continue with 3-4 times per day initially. There may be scope to make these a bit harder if needed, in which case, we will reduce the frequency to 1-2 times per day. Continue to ice your knee after completing these.
Continue with circulation exercises a couple of times a day.
Key milestones:
Driving: Usually 6-8 weeks
Return to work: For more active roles.
Abide by hip precautions for first 6-8 weeks until cleared by your specailist
Goals
Time to revise your goals for recovery. What were they? Was it realistic to achieve in 3 months? Even if you haven't achieved them yet, keeping records of progress is important to reassure yourself you are on the right track!
3 Months +
Following this point we aim to build on the progress you have made. If you have achieved your goals – fantastic! Your exercise and lifestyle management needs to continue from this point on. This is to keep you in good health and maximise the lifespan of the prosthesis. If you have something you still want to achieve, we will discuss this with your consultant and work towards this.
Key Milestones:
Return to normal daily routine:
Maintain regular exercise program.
Which is the right exercise for me?
This is a great question. As far as the evidence is concerned, we have a freedom of choice! Firstly we discuss your preferences, by asking the following questions.
What were your goals?  Did they include a specific type of exercise?
What do you enjoy doing?
Is this suitable with your current strength and range of motion?
Does it help build and maintain lower limb strength
Is there a cardiovascular element involved?
These points are important because it's more likely you will continue with an activity long term if you enjoy it. Following this we advise on each activity with the relevant benefits and risks of each. In addition, don't feel like you are limited to one type of exercise. You have the freedom to explore and check in with us if you need further advice. What we recommend, based on current literate is to perform exercise most days of the week, combining resistance training, hobbies and cardiovascular exercise. We will work with you to individualise this plan.
Below are some recommended time frames to return to activities in this time frame. Keep in mind these will vary based on your recovery and discussion with us and your consultant.
3 months
Gentle gardening, lawn bowls
6 months
Racquet sports, yoga, pilates, tai chi, weights
If you'd like to get in touch with one of our Physiotherapists to ask about THR recovery then please give us a call or email info@whitehartclinic.co.uk
Image credit: https://orthoinfo.aaos.org/en/treatment/total-hip-replacement/
References
National Health Service [internet]. United Kingdom. NHS. (2018). Available from: https://www.nhs.uk/conditions/knee-replacement/
National Institude for Health and Care Excellence (2014) Guidelines scope Hip, Knee and Shoulder Joint Replacement Draft. NICE Guidelines
West Suffolk NHS Foundation Trust. (2019). Discharge Information for Patients undergoing Total Hip Replacement. 5783-3
(image) The American Academy of Orthopaedic Surgeons.orthoinfo.aaos.org[online]. 08/2015.27/04/2020. https://orthoinfo.aaos.org/en/treatment/total-hip-replacement/
Wang, H. J., Zakhari, S., & Jung, M. K. (2010). Alcohol, inflammation, and gut-liver-brain interactions in tissue damage and disease development. World journal of gastroenterology, 16(11), 1304–1313. https://doi.org/10.3748/wjg.v16.i11.1304
R. Biedermann, A. Tonin, M. Krismer.,F. Rachbauer, G. Eibl, B. Stöckl(2005). Reducing the risk of dislocation after total hip arthroplasty The effects of orientation of the acetabular component.The bone & Joint Journal. British Volume.87-B(6).
Coudeyre, E., Jardin, C., Givron, P., Ribinik, P., Revel, M., & Rannou, F. (2007). Could preoperative rehabilitation modify postoperative outcomes after total hip and knee arthroplasty? Elaboration of French clinical practice guidelines. Annales de Réadaptation et de Médecine Physique, 50(3), 189–197.